Spongebob Squarepants characters and friends
Charcter: Patrick Star
From Wikipedia, the free encyclopedia
Patrick Richard Star is a fictional character, voiced by Bill Fagerbakke, in the Nickelodeon TV cartoon series SpongeBob SquarePants. He is about the same age as SpongeBob SquarePants, and is a plump, pink, friendly, well-meaning but highly-stupid (though he did attend a community college, but it is well known you don't have to be smart to get into one of those) starfish with good intentions. Actual starfishes are said to lack brains, and Patrick lives up to that image.


Despite his stupidity, Patrick says bizarre, yet brilliant things from time to time. However, his friend SpongeBob is convinced he is a genius. He is SpongeBob's best friend and has quite a lot of things in common with him. Spongebob, is also an invertebrate. One of his most famous things to do is to walk into the Krusty Krab with his excellent catch phrase of "Good morning, Krusty Crew!". Patrick cooks up crazy ideas that often get SpongeBob and himself into a mess of trouble such as alien hunting, acting as adults with sideburns and not as babies in front of SpongeBob's Grandma, sneaking into Sandy's Treedome in the wintertime, riding on fishing hooks, and many other situations. He fancies himself quite the jellyfisher, and loves many of the same things that Spongebob loves. His one-time goal in life was to defeat the evil monkey-man and save the ninth dimension, but Spongebob convinced him to aim at smaller goals.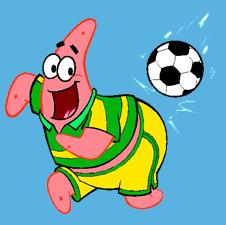 Patrick is somewhat jealous of SpongeBob's various awards and once tried to imitate everything he did hoping to get awards for it. Finally, he got an award for doing nothing longer than anyone else, which he was pleased with. Later, we find out Patrick won the Dirty Bubble Challenge many years ago and then he lost the trophy they sent him in Have You Seen This Snail?. Patrick Star, like his pal SpongeBob SquarePants is a big fan of Mermaid Man and Barnacle Boy. He also has a very good taste in food (especially ice cream), and really loves cheese and riding on fishing hooks. When writing a movie script, he suggested the characters to drink "Cheese Coffee". In an older episode entitled "Hooky", he risked his life for cheese. Arguably, one of the most difficult experiences of Patrick's life was when he had to open a jar in order to copy SpongeBob. He overcame his immense stupidity and was able to pull it off with flying colors thanks to SpongeBob's wise instructions. A simple, but great example of trying again and again until one succeeds. Unfortunately, after his success at jar-opening, he "spiked" the glass jar through the floor in jubilation. He also has an unhealthy obsession with ice cream.
He was said to be born on March 14, 1983. He lives under a rock on 120 Conch Street, two doors down from his best friend. Like most starfish, he sleeps on the ceiling. When he isn't jellyfishing, or adventuring with his friends, he's sleeping in his rock. There are many inconsistencies in the descriptions of his house due to the absurd nature of the cartoon - in one episode is depicted to be nothing but a bed and a chest of drawers, yet in others he appears to have a kitchen and a living room. He really likes balloons and ice cream and is extremely in touch with his inner child, and can get very angry about very silly things. He also wakes up at 3 a.m. to eat Krabby-Patties. Patrick once got a job working at the Chum Bucket when Plankton was searching for a tough competitor for the Krusty Krab in the Olympic-esque Fry Cook Games. The audience was at first fooled into thinking an enourmas pink championship wrestler fish would be the competitor, when in reality he was only carrying the real contestant, Patrick Star.

In the early episodes, Patrick simply wears his trunks to bed. Later on he appears in a pajama outfit. In the newer episodes, including the one that showed his 3 a.m. eating habit, he is seen wearing briefs to bed, just like his friend SpongeBob. Patrick is arguably one of the most popular and greatest characters on the show, due to his hilarious character and tendency towards acting before he thinks, which isn't very often.

He appears in Lights, Camera, PANTS!. He now owns a lemonade stand and gives SpongeBob a HUGE cup. His roles in the episode of "The New Adventures of Mermaid Man and Barnacle Boy" are Barnacle Boy and Sneaky Hermit.
All text is available under the terms of the GNU Free Documentation License

<< Back to the other Spongebob characters