Spongebob Squarepants History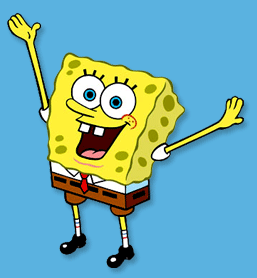 Origin (1993–1999)
SpongeBob Squarepants history can be traced back to 1993 when Rocko's Modern Life first aired. One of the producers was Stephen Hillenburg, a cartoon worker/marine biologist who loved both his careers. When Rocko's Modern Life was cancelled in 1996, Hillenburg began working on SpongeBob Squarepants (although some sketches trace back to 1986). He teamed up with creative director Derek Drymon, who had worked on shows such as Doug, Action League Now!, and Hey Arnold!. Drymon had worked with Hillenburg on Rocko's Modern Life as well, as did many SpongeBob Squarepants crew members, including writer Tim Hill and voice actors Tom Kenny and Doug Lawrence. Another crew member with previous Nickelodeon cartoon experience was former Angry Beavers story editor Merriwether Williams, who worked on that show for its first few seasons and switched to SpongeBob Squarepants in July 1999.
During production of the show, Hillenburg provided a concept of short comics with the same style of the show, but the characters looked different. SpongeBob Squarepants used to be named SpongeBoy, and used to wear a red hat with a green base and a white business shirt with a tie. The name "SpongeBoy" did not make it into the show since the name was already officially trademarked by Bob Burden, creator of Flaming Carrot. Hillenburg later chose the alternative name "SpongeBob." The original name was once referenced in the show by Mr. Krabs' line, "SpongeBoy, me Bob!." The Krusty Krab was originally spelled with the letter C rather than K, but Stephen Hillenburg thought K's were funnier.

Rise to popularity (1999–2000)
On May 1, 1999, SpongeBob Squarepants aired its first episode, "Help Wanted/Reef Blower/Tea at the Treedome", after the 1999 Nickelodeon Kids' Choice Awards. At this time, Rugrats was at the height of its popularity and had already outlived dozens of other lower-budget cartoons. SpongeBob Squarepants , with its generally lower-class animation and humor style more rooted in clever word-play and culture-references unlike the potty humor that made Rugrats so popular, was expected to be just another one of those shows. Following early struggles, its ratings soared, and a year after release, it surpassed Rugrats as Nickelodeon's highest rated show. SpongeBob's signature voice (provided by Tom Kenny) and humorous style was enjoyable to both younger and older audiences.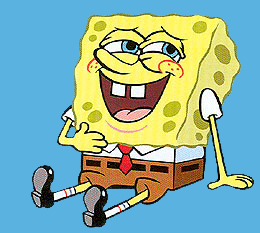 Peak years (2000–2003)
The show began its second season in 2000 with more high-quality animation and even more popular episodes. By then it was clear to the world that SpongeBob Squarepants had opened the door to many other cartoons to use more "adult" senses of humor and come from smaller companies. In 2001, The Fairly OddParents aired from the then-small Frederator company. It focused on a sense of humor similar to SpongeBob's, only more realistic, slightly crazier (and more suggestive to "adult" topics), and with more pop culture references; this show managed to become a hit as well and currently ranks behind SpongeBob Squarepants as Nick's second most popular show. That same year, Invader Zim aired, created by comic book writer Jhonen Vasquez; it had a dark but silly sense of humor (similar to Vasquez's other comic books) that managed to attract a very loyal cult following consisting more of teens and adults than young children (though also containing a moderate amount of preteens). SpongeBob Squarepants, however, was the leader of all these shows and had by this time started its now famous merchandise line.

2002 also saw a bright side, as the first part of that year saw SpongeBob Squarepants at its peak. The beginning of the third season produced many classic episodes and focused on the same style and animation concepts. The year also saw another low-budget show with popularity (The Adventures of Jimmy Neutron: Boy Genius), but things changed late in the year. Due to rumors of a movie, there was high speculation that the show would be cancelled and that 2003/2004 would feature the last season of new episodes. Fans were devastated and online petitions were widely distributed to convince Nickelodeon to produce more episodes by showing continuing fan support. SpongeBob Squarepants Meets The Strangler/Pranks A Lot" was the last episode of this season, and aired in October of 2004. Following this, the movie was released in November of that year.

Hiatus/Movie Era (2003–2005)
2003 to 2004 was arguably the worst time period that SpongeBob has ever faced. Constant re-runs caused some long time fans to fall out, and around this time the show saw its lowest ever ratings, many fans feared they would never air. As The SpongeBob SquarePants Movie achieved only over $85,000,000 in revenue in the United States, it has been assumed that the show's popularity showed something of a decline at the time of its release. The Rugrats Movie, on the other hand, earned over $100,000,000 in the United States. (It was around this time that the animated series which it is based on, Rugrats, was at the height of its popularity. Ironically, that movie would also be considered Rugrats' jump the shark moment by many fans, while the SpongeBob movie was actually generally well received by fans who saw it.)

Finally and to the relief of many fans, it was announced late in 2004 that SpongeBob would be continuing with a new season due in 2005. Hillenburg, despite many rumors, did not actually leave the show but has resigned from his position as the shows executive producer (this job now belongs to Derek Drymon, with Paul Tibbitt taking over Drymons job as creative director).

Big comeback (2005–present)
TV advertisements for SpongeBob's fourth season first aired publicly during the 2005 Nickelodeon Kids' Choice Awards. The new episodes began airing on May 6, 2005.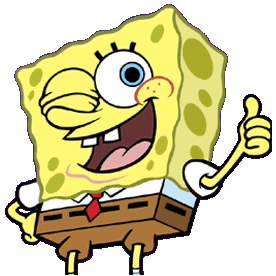 The first new episode of Season 4, "Fear of a Krabby Patty/Shell of a Man", was a huge hit with many fans who had long been bored with the show and many more faithful ones who have been waiting for new episodes for years. Some fans, however, did not appreciate Spongebob's voice change (his voice was now much higher-pitched) and absence of non-animated scenes. Some feel the show has changed from its usual complex and at times meaningful plot lines to silly, almost Simpsons esque plots. Some fans also feel that SpongeBob's drastic change in art style (outlines are thicker, colors are more bold and simplistic instead of the complex and artistic visuals of before, characters and sets feel less odd and quirky, and computers are used much more over the hand-drawing style that had led the series through seasons 1-3) attributed to the show losing much of its oddball charm. Fans also feel the show lost some of its clever dialogue and situational comedy. Despite these changes to the SpongeBob Squarepants universe, many fans do enjoy the new season and some see this change as reflective of the quick work the SB team had to do when they were ordered to make new episodes (they were rushed).
After airing three new episodes on Fridays from May 6 to May 20, Nickelodeon did not premiere any new SpongeBob Squarepants episodes until September 2005.
For the first time in SpongeBob's run, Nickelodeon began airing 11-minute segments of new episodes separately, spread over two weeks. This practice began with the airing of the episode "Selling Out" on September 23; its companion episode, "Funny Pants," premiered the following week on September 30 (Nickelodeon did air "Selling Out" and "Funny Pants" together as a rerun on October 9, 2005). Many fans are outraged, but it should be noted that the change in format is at Nickelodeon's insistence, rather than the SpongeBob creators.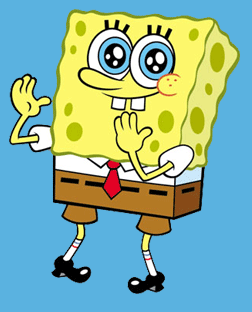 At Nick.com, it was announced that episodes such as "Krusty Towers", "Mrs. Puff, You're Fired", "Ghost Host", "Once Bitten", "Karate Island" and All That Glitters" would air starting in April 2006.

The Star Online eCentral reports that Nickelodeon has ordered 20 more episodes of SpongeBob Squarepants, bringing the show's total amount of episodes to 100. The episodes are projected to have finished airing sometime in 2007. Regarding the new order of SpongeBob cartoons, Cyma Zarghami, Nickelodeon's chief executive, responded, "It just doesn't feel like we should stop yet."



This is quite relevant, as recently the show has seen some of it's highest ratings since its peak years in the early 2000s and, in addition, has returned, for the most part, with positive reception.
(source: Wikipedia, All text is available under the terms of the GNU Free Documentation License )