Free online SpongeBob Games:
Spongebob Squarepants Jellyfish Shuffleboard game!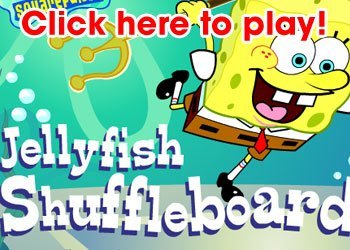 Play Sponge Bob version of curling! Be careful not to push the jellyfish too strong or you will not get scored. Play as either Spongebob or Sandy in Bikini Bottom's favorite pastime: Jellyfish shuffleboard. Shuffle your jellyfish towards the end of the board and land on the markers to score points. Use your mouse to control the strength of your push by lengthening or shortening the arrow. Don't push to far because you can lose points if your jellyfish hits the negative markers. Keep an eye on the water vane and use the currents to direct your jellyfish. Aim for the starfish that pop on the board: Blue starfish multiply your score, Yellow starfish awards you extra turns and White starfish wins you extra points. More fun than making crabby patties! Play against the computer or Hi-Score Challenge mode.