Free online SpongeBob Games:
Spongebob Squarepants Friend or Foe - Trash Bash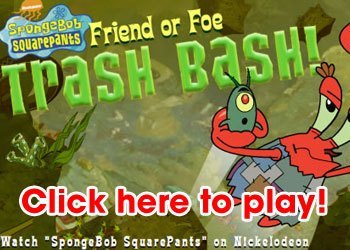 Help childhood pals Krabs and Plankton to rescue the recipe for Krabby Patties before it gets lost in the trash dump! Collect the pieces of the ripped up recipe from the highest piles of trash without being trapped by the debris! Use Krabby claws to break up platforms and race up the canyon. To help you reach distant items, grab and throw Plankton.